The Rhode Island Marijuana industry has not been as profitable as expected in terms of revenues two years after it launched the medical marijuana market and opened dispensaries around the state.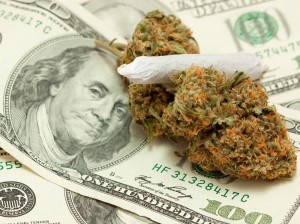 There are currently three medical marijuana dispensaries selling marijuana to patients with the state collecting 4% surcharge and 7% sales tax on every transaction. Revenues of these dispensaries are increasing but they face stiff competition from caregivers who can cultivate and sell medical marijuana without paying taxes to the state.
Reports show that actual marijuana revenues generated represents just about one half of what was predicted at the time when the state prepared to legalize dispensaries or compassion centers. Dispensaries are not required to disclose sales figures, but the state reveals consolidated figures for the revenues it has collected.
The Rhode Island Department of Revenue estimated last 2012 that sales tax from medical marijuana will have an approximate total of $2 million and that surcharges would total approximately $1.1 million by 2016. Based on actual figures, the department is now projecting that sales tax will be about $1 million and the surcharge about $675,000 in fiscal year 2016.
The Revenue Department's estimates were based on approximation it received from compassion centers as they prepared to open. However, the department failed to take into account the increase in the number of caregivers since the department expected the compassion centers to do the job. There are now 3,245 licensed caregivers compared to 2,732 in 2011, according to the Health Department.
While the revenues may be lower than expected, they are actually increasing in actual collection. The Division of Taxation reports that the surcharge revenue the state collects increased by 43%, from $269,156 in 2014 to $385724 in 2015.
Latest data from the state Health Department also showed that the number of medical marijuana patients has tremendously increased by almost 174% from 4,241 in 2011 to 11,620 this year.